The project "Ocean 1 Tower" was kept alive for ten years. But in March this year the land was sold to a family of Bangkok investors. They have let a travelling market set up shop—with ear-shattering noise, and with no permission from City Hall.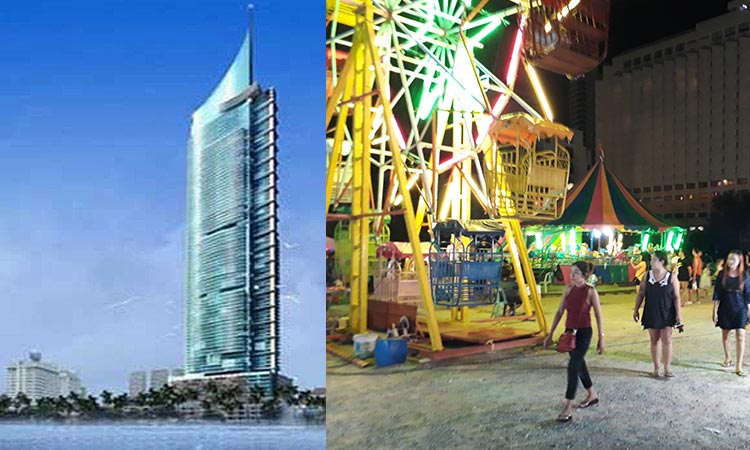 The 99-story "Ocean 1 Tower" (left) was heavily advertised. Now another kind of circus has arrived on the plot.
The real estate company Siam Best Enterprises wanted to build Thailand's tallest building—Ocean 1 Tower. The project was kept alive for 10 years, after the supposed start of construction in 2006, but we have confirmed that the land was sold on March 10 this year. The new owner is a Bangkok family of investors. Six names are listed on the two main title deeds. There are three different surnames.
Past midnight
The market was supposed to start on September 2nd, but the bumper car arena started it's noisy operation already on the 1st. With large base speakers, the windows in the neighboring condos, houses and apartment buildings vibrated dangerously, and the constant thumping made sleep impossible.
People responsible for the operation answered on the phone that they would stop the noise at 11 pm, but we checked last night at half past midnight, and the noise was still the same.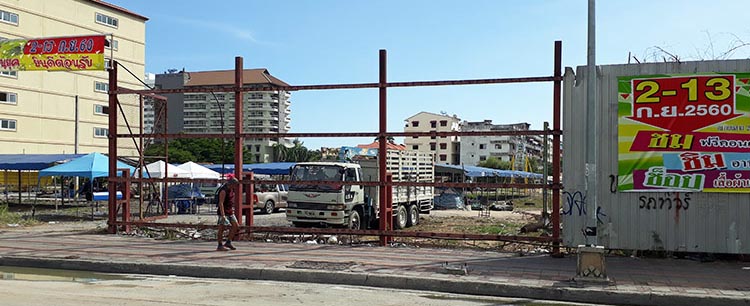 The entrance from Jomtien Second Road, just north of Soi 5.
No permission
We went to City Hall last Wednesday, three days before the 13-day long market was supposed to start. We enquired at the information counter about permissions these people might have, and were advised to ask at the Environmental Department (สำนักสิ่งแวดล้อม). One lady at the front desk told us in no uncertain terms that there was no permit for sound (อนุญาติใช้เสียง) issued at that land plot.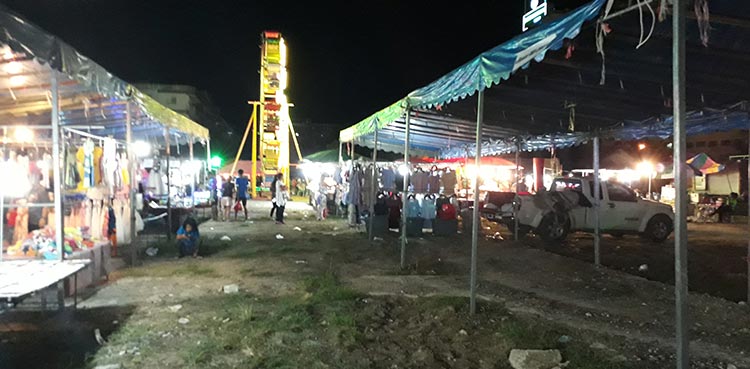 Must wait for the noise
We asked her what the neighbors could do. She replied that they could do nothing until the noise appeared. She also told us that several people had already complained to City Hall about the bazaar.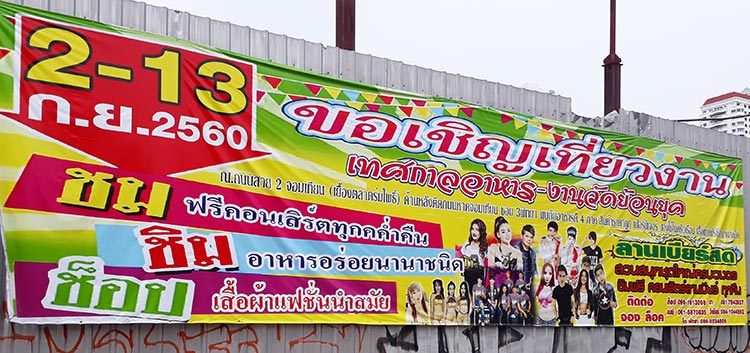 The people behind the market (listed with 5 phone numbers) promise live entertainment every night.
Will City Hall act?
We went to City Hall again today, after three days of the market's noisy operation. We talked with the same lady in the Environmental Department. She told us that they were aware of the market and it's noise, but that there were many other complaints they also had to deal with. She could not promise any immediate action from City Hall.
(© Thailands Tidende. September 4, 2017)