"A remarkable rescue"
"It felt scary that we were drawn further down the more we tried to get out ..."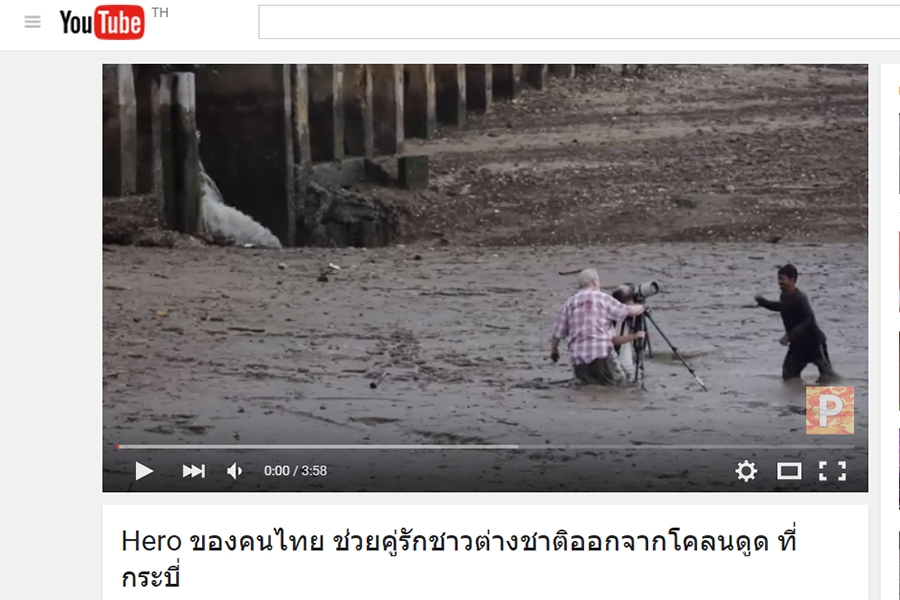 The couple Guo Yaxiang and Arild Hagen from Norway have been made famous by a rescue in Krabi that has made the rounds on social media in the last 24 hours. Here is the interview with Mr. Hagen, translated from the Scandinavian magazine "Thailands Tidende".
"It was a remarkable rescue action to help strangers in this way, completely without thought for personal gain", says Mr. Arild Hagen from his hotel room in Krabi. Hagen is a freelance photographer for Public Broadcasting (NRK) in Norway with series such as "Naturens former" ("Nature's forms"). Together with his wife he also runs a silk exhibition and weaving workshop in Hedmark, Norway.
The Youtube video has been watched more than 440,000 times as of now. Thai News Agency took pictures when the Norwegian couple met their rescuer.
"I suddenly lost my footing"
- What were you doing when you got trapped in the mud?
- We were taking photographs of wildlife that appears on the mud flats in the mangrove forests at low tide. It felt safe to walk slowly outward, step by step. Then I suddenly lost my footing and I was completely stuck in a sinkhole.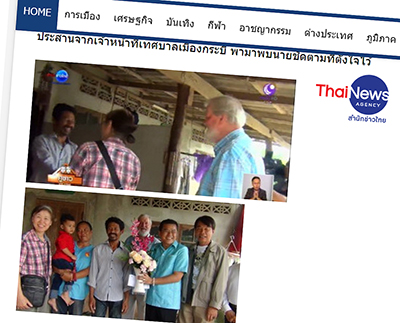 - How long did it take before you discovered that you were stuck? Were you afraid for your life?
- I quickly realized that it would be difficult to free myself. My wife Guo Yaxiang tried to help and got stuck as well. It felt scary that we were drawn further down the more we tried to get out. We soon realized that we had to stop trying to get out. I will have to say, we were not directly fearful for our lives. Also, in such circumstances, you try to devote your thoughts to rational solutions to the problem at hand.
" A remarkable rescue"
- How long time did you shout for help before the rescuer came along?
- We did not call out for help immediately, but tried to get out by using the camera tripod as leverage. The rescuer came before we got to try out this plan. First he rescued the camera equipment, then he tried to pull us out. He could not, so he lay down flat on the ground so we could use him as support to get out. Before we had time to thank him, he disappeared. It was a remarkable rescue action to help strangers in this way, completely without thought for personal gain. Fortunately, we managed, in cooperation with the local press, to track him down so we could thank him correctly together with the mayor of Krabi.
- Were there other people nearby who saw what happened?
- There were not many people around, but when we were out, a lady came along with water bottles so we could get rid of most of the clay. The people are so warm and helpful here.
- Were you afraid that you would harm the rescuer by using his back as leverage?
- Yes, we had to come out one at a time, gently. He ensured us that it was OK. He obviously knew how to perform such a rescue action.
"A different news story"
- The video has been shared many times on social media, what do you think about that? Is it fun to be "famous"?
- The beauty of this situation is that the main focus is on a good deed, very different from most of the news stories in the world today. We were going to keep a low profile, but decided we had to come forward to tell our story about this man and the great rescue he performed. 
- Is the monetary amount the rescuer got a secret, or can it be revealed?
- I don't think it's right to reveal that, but donations were given both from us and several other sources. We hope this will come in handy later in life for the caring fisherman who expected nothing for his actions.
- He got money from the hotel you are staying at as well, according to news sources. Did you witness this?
- Now, but I'm sure that is correct.
Been to Thailand many times
- Have you been to Thailand many times? What do you think about this country, especially now after this happened?
- I have traveled and worked in Thailand many times over the years and experienced different parts of the country. It has always been an enjoyable experience. Thailand is a wonderful country in many different ways, not least the many magnificent people. Krabi has spectacular scenery, magnificent mountains and mangrove forests, incredible beaches, exciting night markets, great food and smiling faces.
- Your silk shop is closed during the winter season, so we assume you use this time for travel?
- Yes, my wife Guo Yaxiang is dealing with silk weaving from May 1 to October 1. In the winter time we have other activities, including seminars abroad. We will surely come back to Thailand, which has given us many special memories.
STORY BY: Denne e-postadressen er beskyttet mot programmer som samler e-postadresser. Du må aktivere javaskript for å kunne se den.
(© Thailands Tidende Nett, October 18,2015)